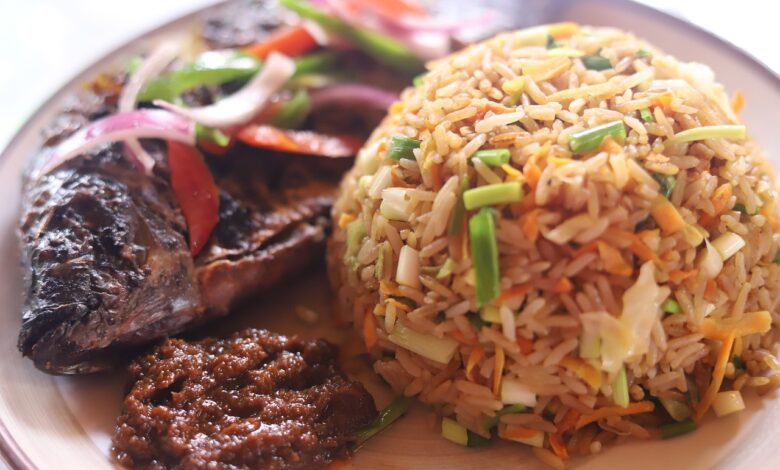 Theplanetstack – Jollof Rice Recipe
Jollof Rice is one of the most famous rice recipes in Nigeria, but a similar recipe is found throughout West Africa with so many different ways to make it.
Alternative names : Benachin, riz au gras, ceebu jën, zaamè
In this page, you will find my version of Jollof rice. It is very easy to make and full of flavours.
Ingredients : Serves: 6

1-kilo rice
3 tbsp tomato paste
3 fresh tomatoes, totally mashed or user tomato puree
2 onions, diced
1 cup green onion, chopped
½ red pepper
1 teaspoon black pepper
1 bouillon cube
4 bay leaves
½ cup of parsley
200ml oil
Thymes leaves
1 tablespoon of ginger
1 head of garlic
Salt
 1 ½ litre water
Directions to make Jollof Rice:

Step 1:  Parboil the rice:
In a pot, bring water to boil, then wash the rice and add in the pot. Add salt and let it simmer for 5 minutes. Then remove from the heat, wash and drain the rice.
Step 2: Making the tomato sauce:
In a food processor or blender, add the onions, tomatoes, red bell pepper, green onions,  garlic, ginger and parsley. Add 1 cup of water and blend all together.
next, heat the vegetable oil and add the tomato and onion mixture, stir in the tomato paste and season with black pepper, bouillon cube and thyme leaves. Let it cook for 15 minutes on medium heat.
Step 3:  Add the water, bay leaves and salt. Cover the lid and bring the soup to a boil.
When it boils, return the rice in the pot and cook until all the liquid is totally absorbed.
You can serve the jollof rice with fried chicken, fish or meat and cooked vegetables such as potatoes, carrots and cabbage.
Geniet dit!