Celebrities
Sports
Trending
Former QB Ryan Leaf faces domestic battery charges in California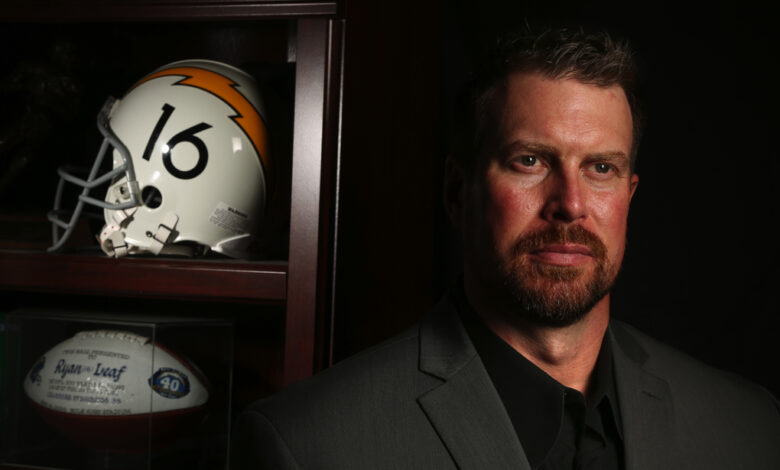 Former NFL QB Ryan Leaf was arrested on Friday in southern California for domestic battery charges. 44 years old who has trouble with the law since 2009 and was arrested for several reason like felony burglary and drug possession.
According to booking information provided by the Riverside County Sheriff's Department, Leaf was arrested in Palm Desert, which is 110 miles southeast of Los Angeles. Ryan is being held on $5000 bail at the Larry D.Smith correctional facility.
Ryan Leaf Legal troubles:
May 2009 – Ryan was arrested for burglary and controlled substance changes in Texas.
2010- Pleaded guilty in Amarillo, Texas
March 30th 2012- Arrested for burglary, theft and drug charges in hometown of Great Falls Montana
2020 – Misdemeanor domestic charges in Southern California.
About Ryan Leaf:
Ryan David Leaf (born May 15, 1976) is a former American football player who was a quarterback in the National Football League (NFL) for four seasons. He played for the San Diego Chargers and the Dallas Cowboys between 1998 and 2001, and also spent time with the Tampa Bay Buccaneers and the Seattle Seahawks.
Leaf had a successful college career for the Washington State Cougars of Washington State University, where he was a finalist for the Heisman Trophy after his junior year. He was selected as the second overall pick in the 1998 NFL Draft after Peyton Manning, but his career was shortened due to poor play, bad behavior, injuries, and struggles with his work ethic and ability to stay focused. An episode of NFL Top 10 ranked him as the No. 1 "draft bust" in NFL history.
Reference : https://en.wikipedia.org/wiki/Ryan_Leaf